Happy to be Home.....?
Posted on
After spending 2 months of needed rest in Portugal me and the dogs are back in Leamington Spa. Are we glad to be back??? Only time will tell, I'm sure we will miss the beach but Dog Walking in the lush green grass of Newbold Comyn can't be beat. We have enjoyed doing something different and the different surfaces have been great for Queenies' Conditioning and Toning, in fact she is looking great.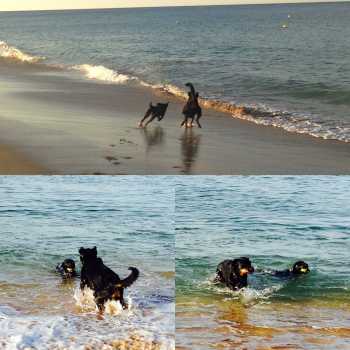 The Dogs' Fitness in fact is fantastic at the moment and I am really pleased with their results
and I am sure Queenies' Physio will be too.
Dave is the fittest she has ever been and I may start Flyball with her next year, it might help with her ball obsession (or not).
Their Diet and Nutrition has been great as fresh fish is so cheap in Portugal and turkey liver too and we have some great recipes to share.
So back to the serious stuff now like Training and Walking and Running..................